How To Cut a Spaghetti Squash
How to Cut Spaghetti Squash
Three Methods:
Spaghetti squash is a tasty and healthy alternative to pasta, but cutting into it can be a challenge. Spaghetti squash has tough skin and delicate flesh, making it hard to slice without hurting yourself or the fragile strands within. You don't have to dread cutting spaghetti squash, though. Softening the skin in the microwave or in the oven before you cut makes it much easier to get to the pasta-like strands inside.
Steps
Cutting an Uncooked Squash in Half
Use a knife to make marks where you will cut.

Spaghetti squash skin is notoriously thick, so you will need a really sharp knife for this. Use your knife to make a small series of punctures in the skin around the perimeter of the squash. The end result should be like a dotted line that you can use as a guide later on.

You can use a smaller knife such as a paring knife for this. You want to try and

Microwave the squash for about five minutes.Microwave the squash on high for five to six minutes. Then, take it out and let it cool for a minute or two before cutting into it. This helps tenderize the tough skin and will make it easier to cut.

Remove the stem.If the stem is still intact on your squash, now is the time to remove it. Use a sharp chef's knife to cut off just enough of the squash top to get rid of the stem.

Put the squash on a cutting board.Place the squash on a cutting board that has good grip. A smooth board such as one made from bamboo or marble may cause the squash to slip. A rough plastic or wooden board will offer you better grip while you cut.

Use a sharp knife to slice along the dotted line.Use a large, sharp knife to cut along the dotted line you made earlier. The squash should be soft enough now that you can cut all the way through it. Then, pull the squash apart and cook it to your liking.
Cutting a Squash for Long Strands
Microwave the squash for 5 minutes to get softer skin.Microwaving isn't necessary, but it does help soften up the notoriously tough spaghetti squash skin. Microwave the squash on high for 5-6 minutes before cutting. Then, allow it to cool enough that you can comfortably pick up the squash before you cut.

Use a paring knife to cut around the circumference of the squash.

Using a sharp paring knife, puncture the skin of the squash. You want your blade to go at least a third of the way into the squash. Remove the blade, line the tip up to the edge of your last cut, and puncture again. Repeat this process around the entire circumference of the squash.

You may need to go around more than once with your pairing knife if the squash does not separate after your first set of cuts.
The strands in a spaghetti squash run around the width of the vegetable, not the length. To preserve those long strands, you need to halve the squash along its round width, not its oval length.

Cut each half into rings to get the longest strands.You can cook your squash once you halve it and get some pretty long strands. To get even longer strands, though, cut your squash into rings before cooking. Use the same method that you used to halve your squash to cut each half into three or four rings.

Cook your squash and pull it apart.

After you've cut your squash to your liking, cook it using your prefered method. Then, gently run a fork around the inner circumference of each ring to loosen the squash and get it ready to serve.

Don't rake the tips of your fork along the strands. This could cause them to break. Use the length of your fork's tines to gently loosen the squash.
Cooking the Squash before Cutting
Prepare your squash.Baking your squash before cutting it makes it much easier to cut. Preheat your oven to 375° F (about 190° C), and put your squash on baking sheet and puncture the skin with a small knife or fork ten to fifteen times.

Bake the squash at 375° F (about 190° C).

Bake your squash in the oven for 40-45 minutes. You will know your squash is done when you can easily insert a fork or knife into the skin.

Allow the squash to cool for at least ten minutes before you cut it.

Cut your squash to your liking.You can cut your squash lengthwise, widthwise, or into rings. The skin should be soft enough after cooking to cut any way you choose. Just be sure that the squash is cool enough for you to handle before you start cutting.

Shred your squash.After your squash is cooked and cut, you can use a fork to gently shred it. Run the tines of your fork around the edge of your squash. Avoid stabbing into the meat of the squash, since this can break apart the strands.

Finished.
Community Q&A
Question

Shouldn't this have been a spaghetti squash and not a butternut squash?

wikiHow Contributor

Community Answer

You are totally right. That is a butternut squash, and not a spaghetti squash. You can achieve a similar effect with butternut squash, though.
Ask a Question
200 characters left
Include your email address to get a message when this question is answered.
Video: How to Cut Spaghetti Squash and Roast it in the Oven
How to Cut Spaghetti Squash images
2019 year - How to Cut Spaghetti Squash pictures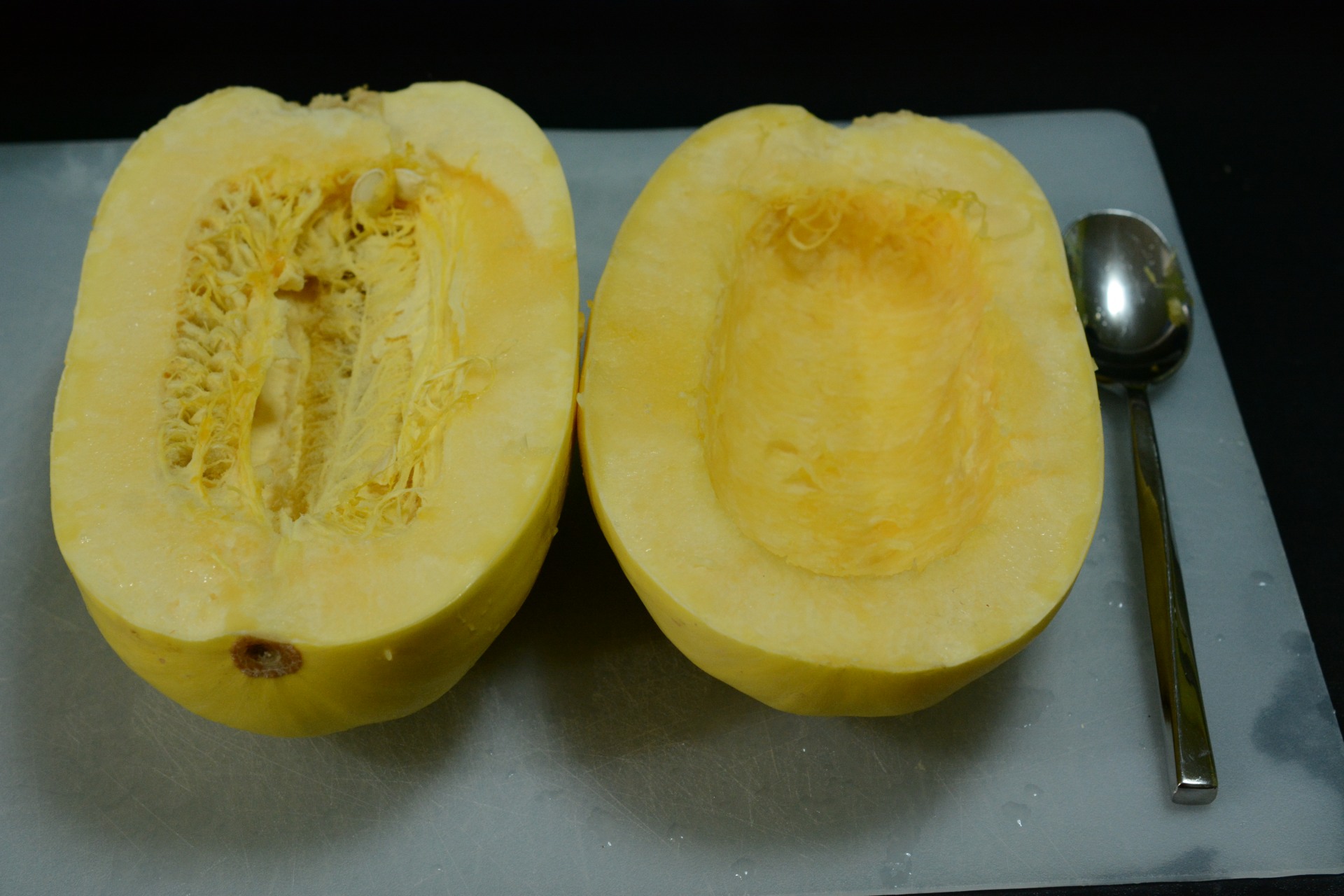 How to Cut Spaghetti Squash recommend photo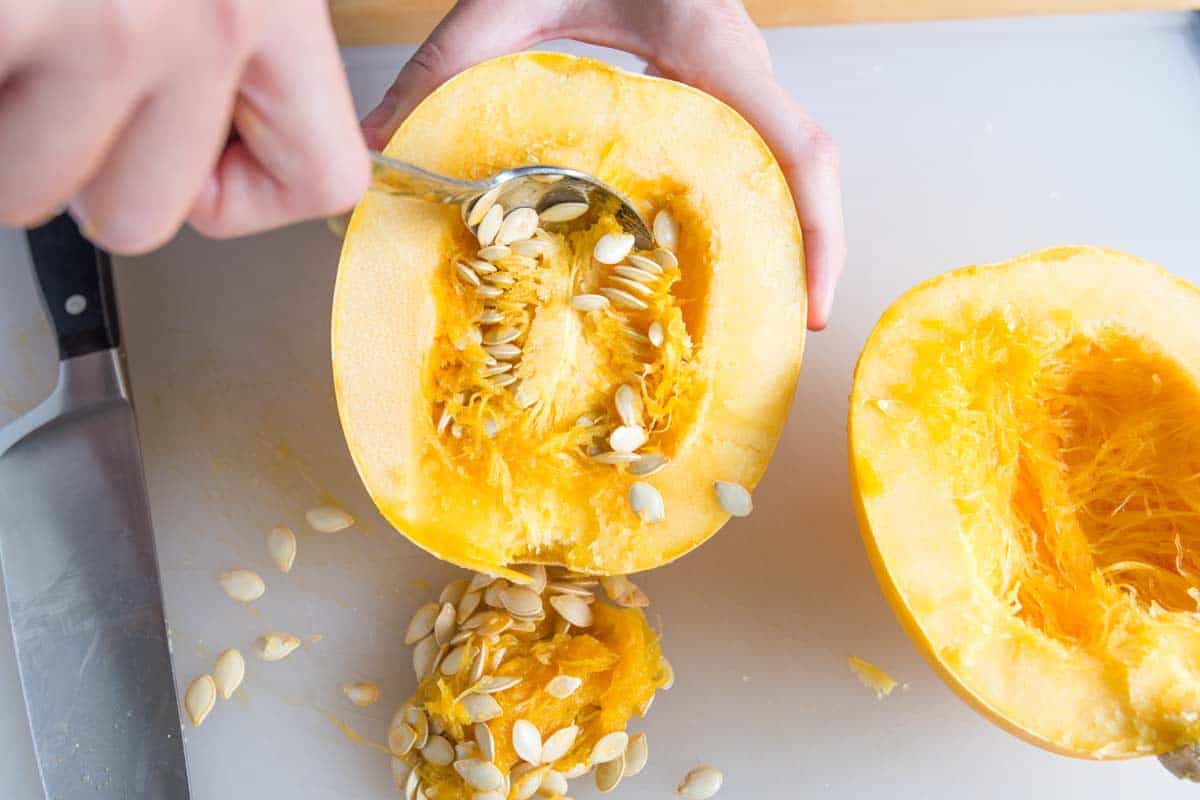 How to Cut Spaghetti Squash photo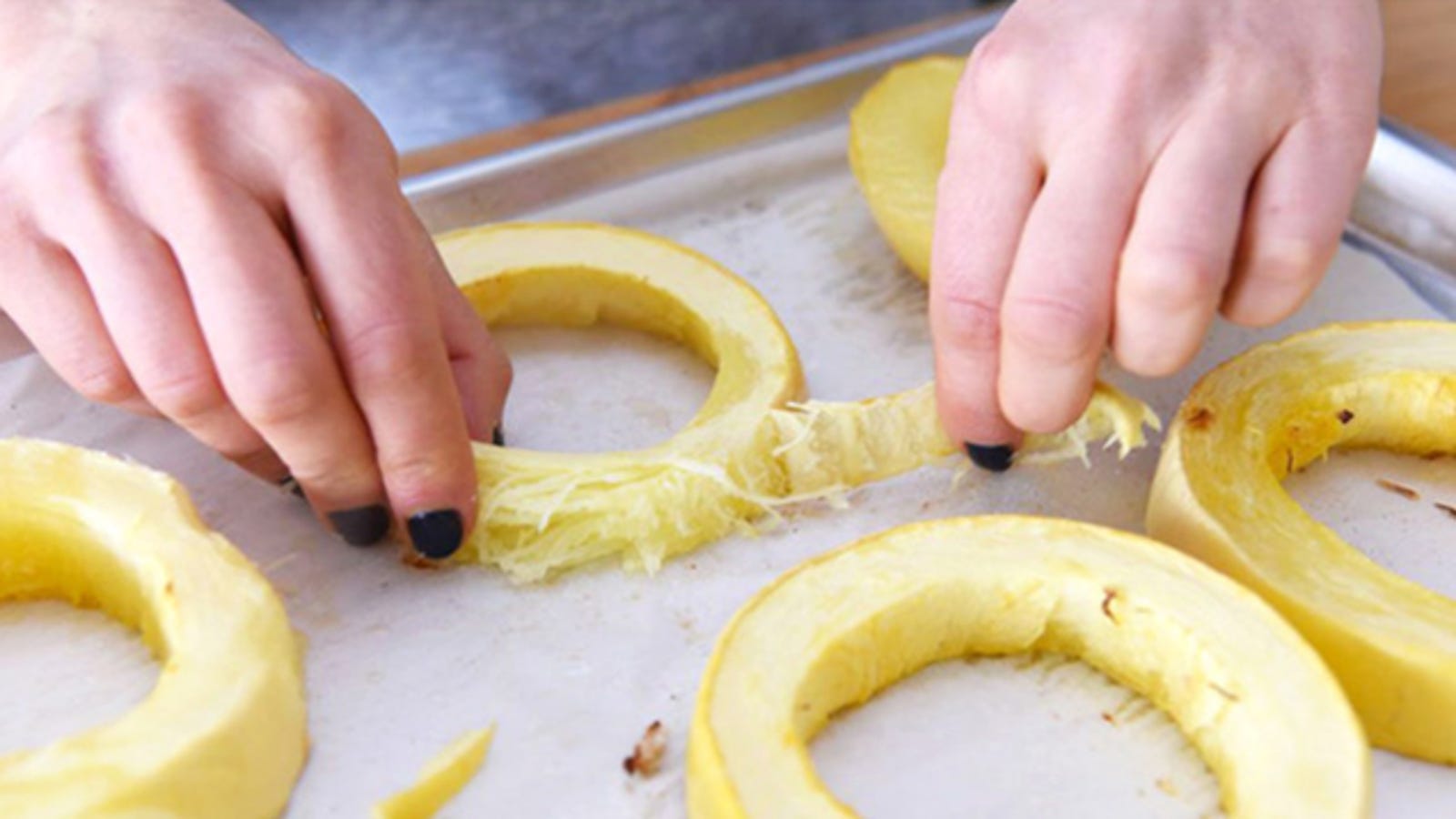 How to Cut Spaghetti Squash new images
images How to Cut Spaghetti Squash
Watch How to Cut Spaghetti Squash video
Discussion on this topic: How to Cut Spaghetti Squash, how-to-cut-spaghetti-squash/ , how-to-cut-spaghetti-squash/
Related News
How to Delete a Google or Gmail Account
The Right Way to Launder Your Lingerie
Alcoholic Beverages: How Much Am I Really Drinking
How to Choose Soccer Cleats
Zumba: Latest get-fit dance craze
How To Prepare Healthy Turmeric Milk in Hindi
How to Address Envelopes to Japan
Unexpected Ways Eye Problems Can Hurt You in Hindi
This College Student Scored 100,000 Worth of Products For Charity — Using Coupons
The Meat Wine Co
How to Start a Volunteering Club at Your School
Prince William shares emotional wish for Prince Charles and his grandchildren
Date: 04.12.2018, 21:03 / Views: 52454
---